...do this, won't you?
The Gibson home is very passionate about lots of stuff. I think you might know that. One thing we are passionate about is Katie and her work in Uganda.
I don't read many blogs. Yes, I read some of my friends mainly when I am reminded by a comment they may leave or a post on Facebook, but the only blog I frequent is Katie's. And it took me a long time to even check out her writings after my friend Ginny told me to. In fact, if memory serves me right she had to follow up with me... "Hey, did you check out what that 21 year old is doing in Uganda?" "Oh, yeah... I need to do that." I am so glad I did.
It got me thinking the other day: I wonder how many other people only read one or two blogs. Maybe they are like me: "Oh, yeah... I need to do that," after you have shared with them something like
Katie's Journey
.
So, I thought... why not give them something to get excited about, after all, we all like free stuff.
I am asking YOU to join our family in working together to bring more awareness to what AMAZIMA Ministries is doing in Uganda through God, Katie, and others here in the states. At first I thought, "Well, how can our little ol' family do anything other than just pray and give financial support?" (Not that those both aren't
very
important but hey, why not spread the news too.) Then I had an idea!
So, here it goes.
Each month our family will be doing a GIVE A WAY for one of these:
Ginny
sent me months ago; I could put it on and display for you... however, I am so excited to get this information out that I don't want to stop and take a picture. Honestly, the tree makes a good model, I think ; )
Made of recycled magazines by Ugandan women, these necklaces retail for 18.00 plus shipping. The purpose? Feeding their children and the children of Uganda through AMAZIMA Ministries. You can check out more about it
HERE
.
Here are the many ways you can get yours for
FREE!!
Shipped to your mail box!
* Add this button to your Blog-
1 entry
(copy and paste the HTML from the sidebar and add it to
your
sidebar or post)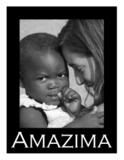 *Add this button to your blog-
1 entry
(copy and paste the HTML from the sidebar and add it to
your
sidebar or post)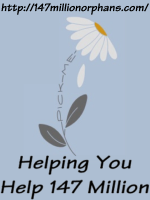 *Write something about AMAZIMA on your blog page-
1 entry
*Put a link about this give a way on your blog so others can spread the word -
1 entry
*Post a link to one of the above ministries (not this blog) on Facebook -
1 entry
*Sponsor a child through AMAZIMA-
1 ongoing, entry

each month
(learn more about sponsorship by clicking
HERE
)
Last step, after doing any of those, leave a comment about what you did so we can count it up for the drawing held on March 9th. I know comments are cheesy sometimes, but it will be an easy way of keeping track and it might also encourage others to do the same!
So, there are six different ways to spread the word about this work! And six different ways to win!
Some months the give a way will be a different item from the 147MillionOrphans website. You can check out some of it
HERE
. Everyone asks me about my necklace. So, even after you receive your "prize", you can be a testimony for the people of Uganda and orphans in many parts of the world by telling them what your necklace, t-shirt, bag, etc. stands for.
I would much rather have a story to share with someone about how my "stuff" is helping others rather than: "Yeah, I got it at Wal-Mart, on sale."
Can you tell I'm just a
little
excited?
Ok, ready set...

GO

!
Give a Way ends on March 9, 2010, 4:30 CST
That's one week from today. Tell everyone you know!
.